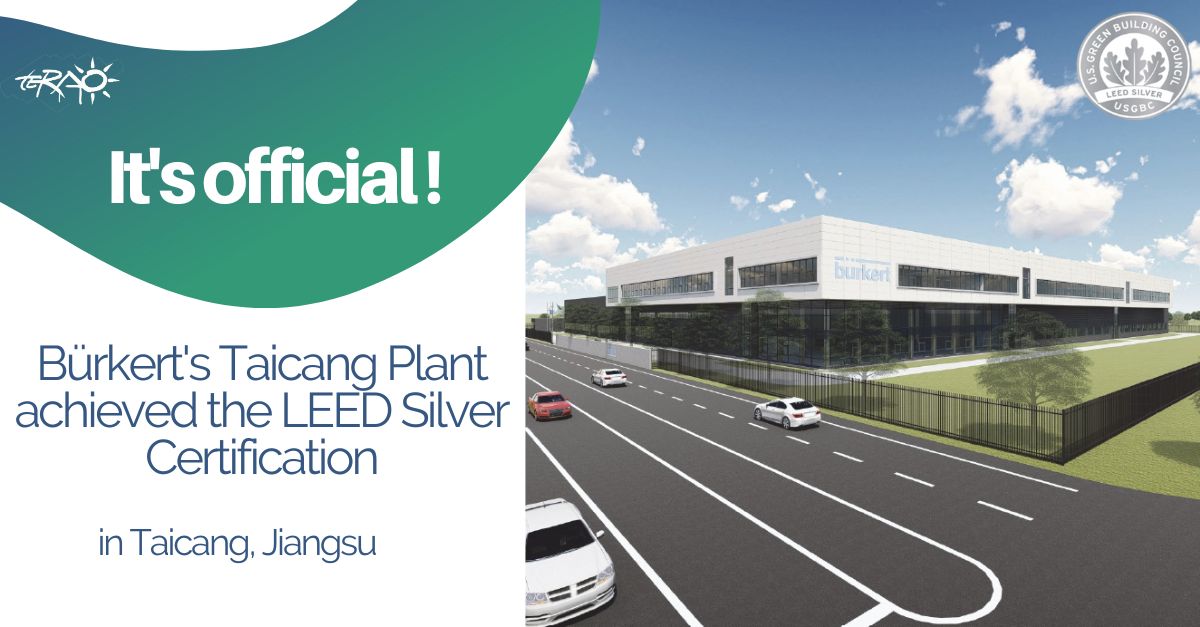 Bürkert Taicang Project located in Taicang Port, Jiangsu province, is a regional headquarter of China. The new headquarter will focus on the R&D, production, and sales of high-end fluid control systems.
Bürkert Fluid Control Systems is one of the world's leading manufacturers of measuring, controlling, and regulating systems for fluids and gases. Bürkert products are used in a wide range of industries and applications – ranging from breweries and labs to medical, bio-engineering, and aerospace technology.
The project has a site area of 40,030 sqm, with a Gross floor area of around 31,600 sqm, consisting of a workshop, warehouse, and office.
The project was designed and constructed according to the LEED rating system. It was not an easy journey as the project faced two main challenges: Firstly, it is located in a low-density, newly developed area, and secondly, production machines have very high energy intensity. However, the project still achieved the sustainable target that was set up in the beginning.
Major sustainable and low-carbon strategies include:
Ground source heat pump system for cooling and heating
The building energy performance: 42% energy saving against LEED baseline
Roof solar PV 688kWp which accounts for 17% of annual building electricity consumption.
Water efficient fixtures: reduction of water use by more than 50%
Rainwater harvest for irrigation and toilet flush,
Heat recovery from a water-cooled compressor to produce hot water
BMS system and EMS system
Intelligent lighting control system
Overall, these strategies will greatly reduce the energy, water, and carbon footprint.
During construction, TERAO also followed up closely with contractors to ensure all site work is managed, checked, and commissioned properly. Finally, our management helped the Bürkert Taicang project successfully achieve LEED BD+C Silver.
The scorecard of the project could be checked on the USGBC website:
Burket Fluid Control systems scorecard
TERAO Asia is proud to have participated in the design and construction process as the LEED consultant for Bürkert's Taicang New Plant.
---
Learn more about LEED through this link, LEED , TERAO Asia or by contacting us:
Sustainability might not be an easy journey but worth to pursue for the sake of our environment. Let our team facilitate your journey toward green building and sustainability.
Related articles about LEED by TERAO: