It is a pleasure to have certified with the support of our partner archetype, Diana pet food newest pet food processing factory located in Chuzhou, Anhui province. This project has obtained a Silver level LEED certification: The LEED consultancy mission was carried out by TERAO team in collaboration with archetype, the design institute.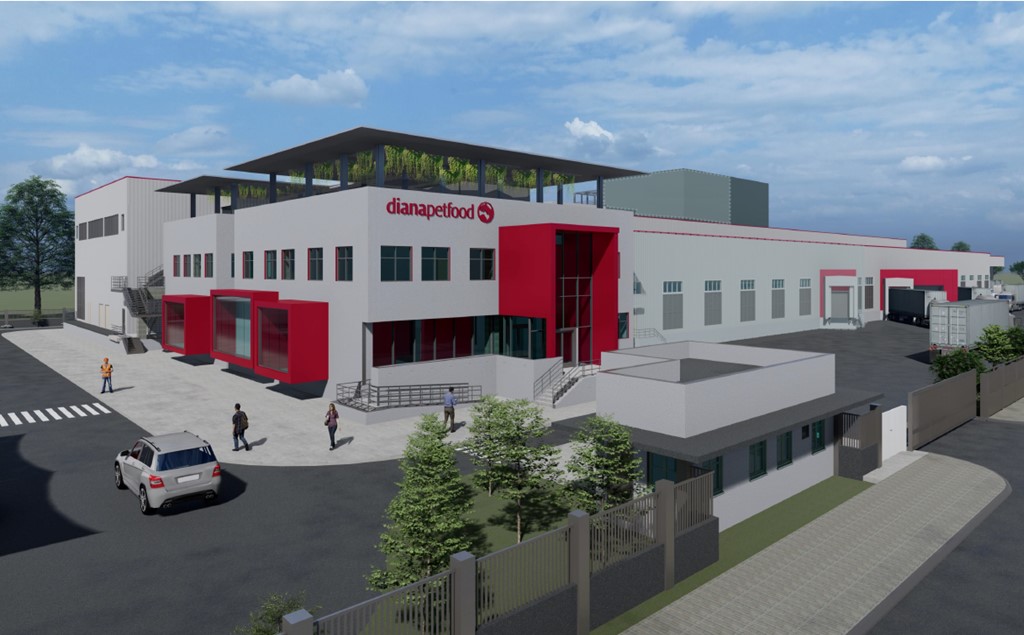 Rendering of the factory
DPF recognize that working sustainably also means working cost-effectively. To turn this around requires a willingness to buck conventional financial wisdom by focusing not on reducing the cost of each part but on increasing the efficiency as a whole. DPF decided to deliver to its employees a more sustainable working environment, , with green building ambition, translated through the LEED certification.
TERAO team did not only carry out the LEED certification process, but also enhanced the sustainability of both the factory and offices  buildings, through specific technical studies as below:
Energy modelling: TERAO could optimize the Energy systems of the production area thanks to a better understanding of the thermal needs of production process. The project has obtained 8/18 LEED points in the Optimize Energy Performance credit thanks to this study;
Energy modelling for the factory part, have been used to suggest the use of heat recovery from Air-source heat pumps to be reused in dehumidification systems;
Indoor air quality testing: Before occupancy, a complete air quality testing has been carried out by Intertek for Formaldehyde, acetaldehyde, VOCs&TVOC and PM2.5&PM10 in air. This approach will ensure its staff with the best air quality in rooms.
Envelope commissioning: besides the classical MEP commissioning, TERAO, in partnership with Intertek, carried out the Envelope commissioning for this project. It not only helped to obtain more credits for the LEED scorecard (6 points), but it also helped the customer to carry out a verification of its envelope, thanks to a mock-up, some air-leak test this will ensure the building does not lose too much energy through air leaks.
DPF factory has opened on 07/06
Also, TERAO provides the following sustainable strategies for DPF:
Optimization of the Lighting Power Density;
Smart energy management system;
HVAC optimization with temperature settings.
Air-Source Heat pumps with heat recovery;
Rainwater collection: reuse of rainwater for flushing and irrigation
Planting native plants and avoiding foreign species
Overall, these strategies will greatly reduce the factory energy, water and carbon footprint.
Customer official page:
If you need more details, please do not hesitate to contact us at glesce@teraochina.cn. We will be happy to assess your factory building under the LEED standard, or other sustainability certification on the market.