TERAO ECOSYSTEM
TERAO believes that a collaborative effort with our design partners will enable intrinsic sustainable design, wherein buildings and cities operate flexibly and resiliently.
Terao remains unique by its capacity to create fruitful partnerships involving Industrials and Engineers.
Our ambition is to promote Progress while being the transmission belt between Innovation and Reality.
Our Engineering DNA allow us to be ahead of leading edge solutions while staying focused on technical, economical and operational feasibility, taking into account site constraints.
UMO – PROJECT MANAGEMENT UNION
A partnership involving the entire engineering capabilities: TERAO is a founding member of the UMO, which is a group of French engineering companies that helps building the field of Sustainable City in China.
As a consortium of six firms, UMO aims to develop a global and multidisciplinary approach of design team in order to bring practical solutions in any phase of a project, from green buildings to eco-neighborhoods including eco-cities.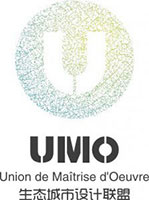 OUR INSTITUTIONAL PARTNERS
Our capacity to embrace the international challenges makes TERAO one of the first independent Sustainable Engineering consultancy. They believe in us and we develop all together national and international synergies: