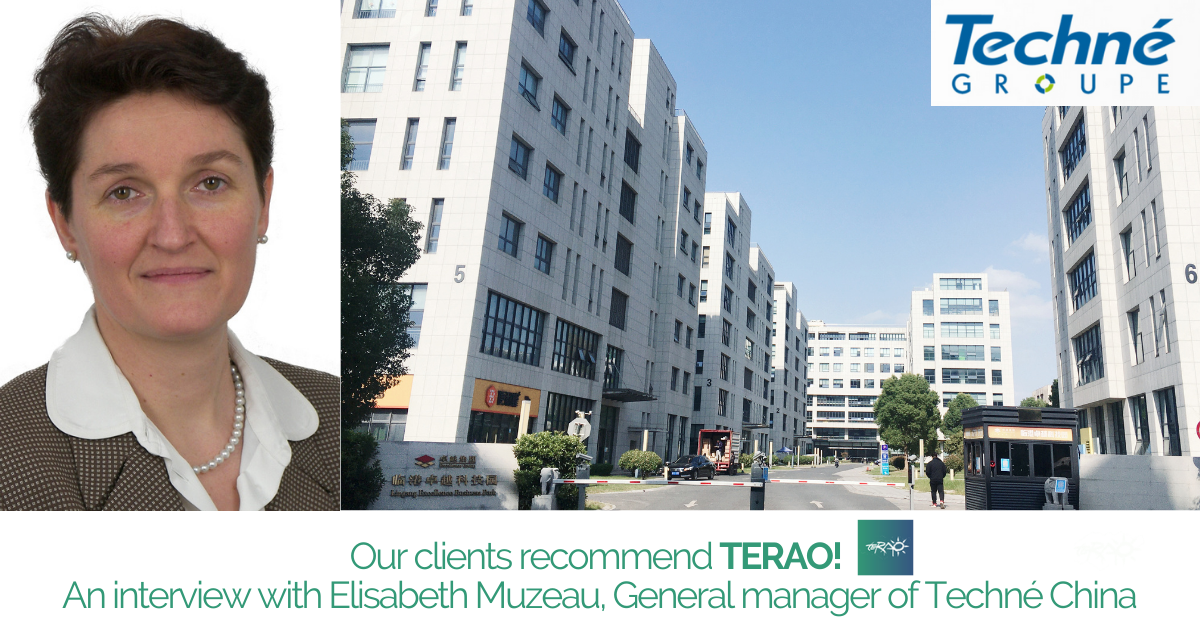 In the wake of Paris Agreement, companies are being pushed more and more to lower their carbon footprint. TERAO can help to assess the carbon footprint of companies, from the upstream to downstream emissions.
Here is an example, with Techné Shanghai, which already had a carbon footprint calculation made by their Headquarter, but needed a local calculation for the Chinese branch. We invite you to read the following interview of Elisabeth Muzeau, General Manager of Techné China.
---
1 – Can you tell us more about your professional background & the activities of Techné in China?
Techné is a French company, specialized in manufacturing and selling sealing and sliding parts. The group established very early in Asia, opening first a production in South China then 2 years later, in 2006, its WOFE in Shanghai. This office in Shanghai has become over the years our China Competence Center including various services to our customers such as sales, technical support, quality laboratory, and warehouse, all in the same facility in Songjiang district of Shanghai since 2018.

2 – How did you hear about TERAO? In what context did you need TERAO support?
At Techné, we aim at better take into account the protection of Human kind and of our planet in all our activity, so that the performance of the company is not only economic but also global. In that way, we implement all what we can in order to:
Reduce our ecological impact and help our customers and suppliers to do the same.
Build long-lasting relationships with our customers by bringing them solutions to reach their goals.
Strengthen our long-term relationships by emphasizing the Human Relationship and a Sustainable Development.
It was therefore quite natural for us to anticipate the Chinese regulation and estimate our Carbon footprint for all scopes.
However, we are not professional in calculating our Carbon emissions and needed some professional company to support us. As Terao is also a French company, it has been recommended to us amongst our French managerial network. Moreover, Terao had already handled many projects in China in the field of energy efficiency, low carbon, and various environmental certifications successfully, it seemed therefore the right company to work with.
3 – How TERAO is contributing to your project(s)?
Our objective was to get a picture of our Carbon footprint of year 2021:
with the first aim at involving all our Chinese employees in the process in order to raise their awareness on what is a carbon footprint assessment, how it is calculated step by step with the data that they gather themselves from their daily work practice.
as an instant picture, it is not really relevant in itself but the starting point of a process that will engage us year after year in order to see the evolution of our carbon emissions.
of course, our ultimate goal is to reduce our Carbon emissions as much as we can but there is currently no strict enforcement of reduction.
Nobody in Techné Shanghai had really an idea of which data were needed and how to collect them.
With the leadership of TERAO's team, we have been able to gather the necessary data to complete the full assessment within less than 3 months.
Moreover, we now have a clear idea of where our carbon emissions are coming from, which of course will help us a lot to work on the key factors.
4 – Which part of TERAO's work are you the most satisfied about?
TERAO has all along the project being very educational to help us develop our knowledge on carbon emissions calculations. The 2 team members allocated to us, a project manager as well as a project engineer have always been very available to answer all our questions, and efficient in managing the different phases of the project. We had several meetings and discussions locally between TERAO and the Techne Chinese team. Moreover, our Techne headquarter could also benefit from the carbon emission factors that TERAO could find from their professional databases, which also helped them to refine their own carbon emission analysis.
5 – To whom would you recommend TERAO?
The scope of our collaboration with TERAO was on calculation of a yearly Carbon Footprint. No doubt that they are very professional on such topic, but also on many other topics such as Life Cycle Assessment, energy efficiency and green building engineering, etc…
TERAO being a foreign company with a footprint in China since more than 10 years, it has the right mindset to support foreign companies in their efforts to become "greener" in China.
Mrs Elisabeth Muzeau, General Manager of Techne Sealing Technology Trading (Shanghai) Co., Ltd.
Thank you, Elisabeth, for these kind words.
---
If you happen to have carbon footprint awareness goal as Techné for carbon footprint reduction, you can contact our BD manager Gaspard at glemoinescelles@teraoasia.com. We would be happy to help make your asset, office or factory more low-carbon !
Website of the client: