BREEAM In-Use v6 has been launched by BRE, and can be applied for new project from May 11th, 2020! The new technical manual is much more visual and colorful, and easy to navigate into. However, if you had not had time to go through it yet, here are TERAO insights of the significant modifications we can notice from the 2015 version to the v6 version:
Change 1 – No more renewal every year
The certification can be valid for 3 years, but there is some evaluation to be made in between by the assessor to check that the asset has not changed.
There will be a full year after the launch of BIU v6 where assets could still be registered under BIU 2015. Another full year where they could be certified or re-certified under BIU 2015. After the full year after registration, it should use BREEAM In-Use v6.
Change 2 – Part 3: User Management has been removed
Part 3: User Management has been removed, as it seems no project so far has done the assessment of this part before, due to the difficulty to report and assess user behavior in a building;
Change 3 – New Resilience and Resources categories to take into account Circular economy
Material and Waste categories have been replaced by Resources and Resilience. It will take more into account Circular Economy, as well as mitigation and management of risks in the long-term, especially in regards to Climate Change-related risks.
Change  4 – Minimum requirements for each rating achieved
There are some Minimum requirements for each level now as Water Metering, Flood Risk Assessment or Site waste management for at least 3 waste streams. It brings confidence in each rating achieved.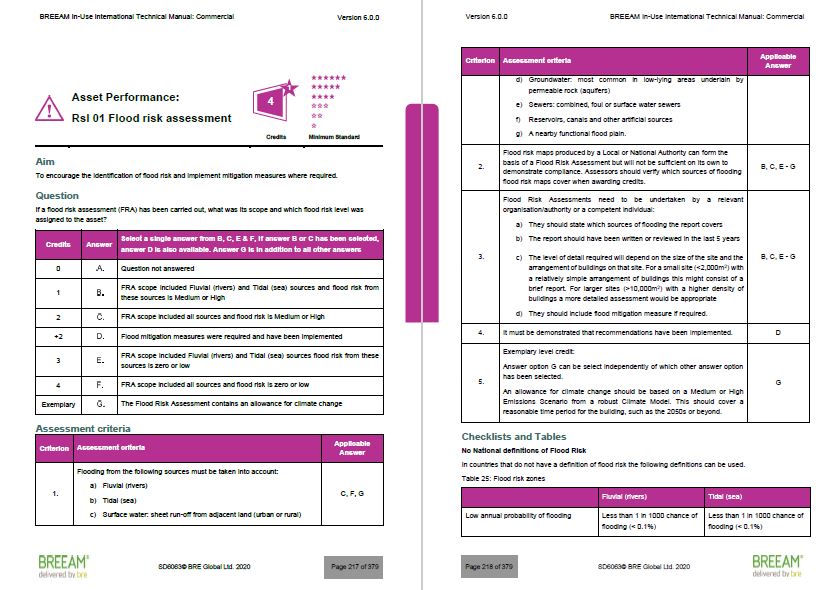 The new technical manual for BREEAM In-Use : much more visual and clear to find identify each credit and its minimum requirement
Change 5 – Pathway to Net-Zero operational carbon and beyond
As Climate change issue is more and more urgent to solve, the trend for buildings is to reach net-zero carbon operation, and this new version allows to take this into account with the Energy category or Resources – Sustainable procurement for example.
Change 6 – Exemplary credits to recognize beyond best practice and have a positive Social Impact
In this new version, exemplary credits can help to recognize assets with beyond best practice, as the Exemplary credit for Universal Design, designing asset taking into account all kind of future users; you also have exemplary credit for Demand Side management or also Environmental policy going beyond regulatory frame.
At TERAO we would be happy to assess your existing building under the BREEAM In-Use scheme, for more info, do not hesitate to contact us at contact@teraochina.cn .
BREEAM In-Use related article:
May 2019: We have two BREEAM In-Use assessors in the team:
May 2020: Article from the BRE – BRE launches BREEAM In-Use version 6