On December 5, 2018, TERAO was invited by TÜV Rheinland Group to speak at the "Green Manufacturing System Construction and Energy Efficiency Enhancement Seminar" in Foshan, Guangdong province. The seminar was organized in collaboration with the Guangdong Energy Conservation Association and the Foshan Energy Conservation and Circular Economy Association. It has attracted more than 70 enterprises and associations and over 100 people attended the event.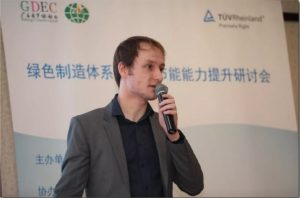 Our Energy Efficiency expert Simon Joubert introducting TERAO's approach to energy audits
TERAO's contribution was titled: "Energy Audits: methodology and benefits". Presented by our Energy Efficiency expert Simon Joubert, it focused on the means to achieve significant, lasting energy savings in an operational industrial building. The key ingredients of TERAO's approach to Energy Audits were highlighted:
an effective energy audit is built from detailed advance work: collecting and analysing data before going on site in order to make the on-site time as productive as possible;
it must be holistic, meaning that the facility is taken as a whole: the process, the building systems and the building itself influence each other and their consumptions must be studied together
We presented three different case studies, from heavy industry to clean room for higher technologies. As Simon explained: "Every single site requires a different approach towards energy optimization. Only by tailoring the audit to the needs of the client can we achieve effective, sustainable energy savings".
Other speakers were TÜV Rheinland Greater China Management System Service's Senior Project Manager Jiang Xinghua, main drafter of the GB/T 36132-2018 "Green Factory Evaluation General Principles" standard – the first national standard related to green factories in China, officially released in May this year, who introduced the standard, its requirements and application process ; and Mr Lin Jianzhi, auditor of the TÜV Rheinland China Management System Service Department, who discussed business opportunities linked to Life-Cycle Assessment.
If you need any information about our Energy audit and Energy efficiency services, feel free to contact us at nieong@teraochina.cn.