How TERAO can help you to efficiently cool your industrial rack?
Case study – Cooling system optimization
TERAO's team worked as energy efficiency specialist to optimize cooling system for a specific case. A Taiwan based client which process is highly impacted by the weather, needed to control well humidity and heat by adding new cooling racks inside a warehouse. The goals is to store materials within a temperature below 25°C. To reach this goal, they wanted to determine the right insulation materials and the suitable cooling system for the new racks.
Project type: Specific case – Aeronautic industry
Key equipment: High-efficiency cooling system, Insulation materials
Main objectives:

Define the most efficient insulation materials
Optimize the cooling system
TERAO optimization
1st Step – Energy Modelling
Based on the Methodology of Sustainability Solutions for Energy Efficiency , the first step is to define the cooling needs of the rack through energy modelling.
2nd Step: – Define the most efficient insulation materials
Thanks to the energy modelling, it is possible, by calculation to justify why one material is better than another one. TERAO compared different insulation materials in order to testify that the Rockwool is the best choice for this case. The insulation who had been tested in this study include Glass Wool, Fiber Glass, Polystyrene EPS and Polystyrene XPS.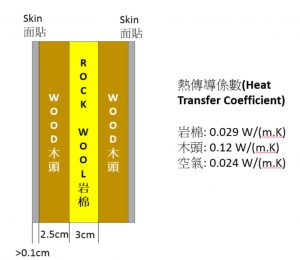 With a conductivity of 0.029 W/(m.K) the rockwool material is the most efficient to minimize the energy consumption compared to other insulating materials. *
*We would like to remind that each case is different and different solution will be adapted to each case.
3rd Step: Optimize the cooling system
By opting for the suggested composition (Wood/Rock Wool/Wood), the next step is to optimize the cooling system for the cooling racks.
After different energy simulations, TERAO suggested to the client a cooling system with a specific cooling capacity and an EER.
Conclusion:
Through this very specific energy efficiency study, the customer was able to choose and install the most adapted cooling rack system, including the right insulation and the right cooling system, bringing the most in terms of cooling capacity and energy-efficiency.
---
If you need more details, please do not hesitate to contact us at nieong@teraochina.cn. We will be happy to help you to optimize the energy efficiency and sustainability of your process.