Greenhouse gases (GHG) reduction has become a hot topic (this is the least we can say) in the recent decades, to fight against global warming. The building sector is accountable for nearly 40% of annual global GHG emissions (9.2 GtCO2 in 2015 according to IEA).
Therefore, a great interest is shown to pay an effort reducing the GHG gases by designing low-carbon building.
According to a recent internal research, most of the building-induced CO2 emissions are emitted during the operation stage due to energy-consumption-related Operation and Maintenance activities.
On another hand, materials manufacturing activities are responsible for 20% of carbon emissions with consideration of the embodied  CO2 footprint represented by materials production.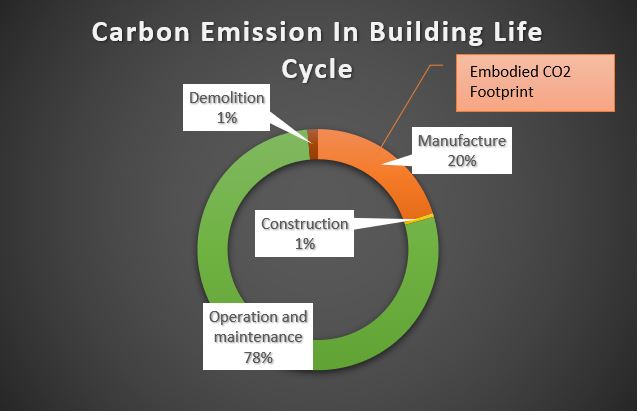 A low-carbon building should be specifically designed with GHG reduction in mind, which could be achieved by different approaches:
Specifying low carbon materials

Prioritize wood, timber-based materials or products (structure, façade, interior finishes, furniture);
Prefer ecological materials and bio-based materials use;
Reduce the use of cement or other high carbon emission materials;

Working on the material efficiency

Incorporation of innovative green materials and efficient technologies;
Avoid unnecessary use of products;
To help you design a Low-Carbon building, TERAO can be involved in the design stage of your asset and help you find the right strategies to reduce the embodied footprint of your Building.
TERAO can also carry out studies such as Life-Cycle Analysis (LCA) or Carbon-Footprint studies, that will help you better understand your Building footprint on the environment on a short, mid or long-term point of view.
An example of project for which sustainable materials have been used is the Louis Vuitton Foundation Museum (Details in French), close to Paris, for which TERAO has been the sustainable consultant from its early design to construction. Wooden structure has been suggested by TERAO to lower the carbon footprint of the museum.
If you need more details, please do not hesitate to contact us at nieong@teraochina.cn. We will be happy to help you design a more sustainable and low-carbon building.