Today you will learn more about Jiawei, a marketing, and sales executive based in the Shanghai office, who is now completing her 6-month undergraduate internship in Terao. Have a good read!
---
Q1: What is your role in TERAO and since when?
Jiawei: I started working at TERAO in 2022 January. I work as a marketing & sales executive here. As most of my colleagues are engineers and they are very busy, my job is to help them summarise the projects they have done to promote them and make more people aware of us.
At the same time, my role includes contacting clients and being one of TERAO's external contacts.
Q2: What do you like in your role at TERAO?

Jiawei: I like my role here in TERAO. There are several reasons: Firstly, my university is a business school and I learned a lot about marketing. This role helped me consolidate what I have learned, and gain firsthand experience, while giving me a clearer idea of where I fall short. At the same time, I believe that sustainability is an inevitable aspect of the future and a goal that people need to work towards. It is essential that more people become aware of what extent sustainability is crucial to mitigate climate change, and I hope that my efforts can help to achieve this.
Q3: Why did you choose to work at TERAO?
Jiawei: As a global company, TERAO has an international working atmosphere that I have always sought. My dream is to work for a French company or a multinational company after graduating, so I think it is important to get to know how to interact with people from different countries. And, I think green building is very valuable and I am delighted that I can work for a company that is helping to make more green buildings a reality.
Q4: What is one of your values that is in line with TERAO Value (transparency/commitment/thinking ahead), and why is it a value for you?
Jiawei: I will say commitment of these three. Whether it is B2B or B2C, the essence of a transaction is based on mutual trust. What we promise our customers, we must achieve. A good reputation comes from your ability to deliver on the commitment you make.
Q5: What is one of your hobbies outside of work?
Jiawei: I like traveling as I love the different styles of architecture and landscapes around the world. Sometimes going to an unfamiliar place and seeing it can help me to switch my mood.
Q6: Favorite quote/motto?
Jiawei: 'Accept things as they are. '
Q7: A short sentence to describe you (ask your colleagues of TERAO Asia).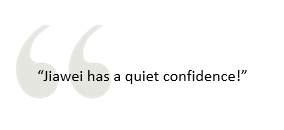 ---
If you want to contact Jiawei for any questions about green building projects or traveling, feel free to contact her at jwu@teraoasia.com.